About Thyro-Cat and Feline Hyperthyroidism Treatment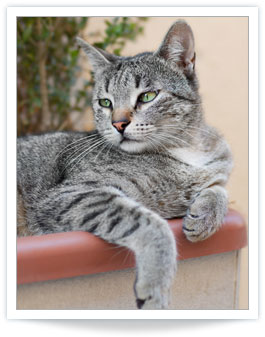 Thyro-Cat offers hyperthyroidism treatment for cats through radioiodine therapy, a fast, safe and the most effective method for curing feline hyperthyroidism. With one quick shot and one short stay, we offer your beloved cat a permanent cure.
Thyro-Cat hyperthyroid treatment facilities are built exclusively for I-131 treatment of feline hyperthyroidism. Thyro-Cat centers are fully licensed by the State Departments of Health and the Nuclear Regulatory Commission. Our centers are spacious, comfortable, climate-controlled and complete with videos for cats to enjoy.
All Thyro-Cat referral cases are reviewed by our veterinary specialty team, which consists of a board-certified radiation oncologist, internists, cardiologist, radiologists and a radiation safety officer. These team members collectively assure that each cat's needs are met prior to, during, and after I-131 therapy for feline hyperthyroidism.
Thyro-Cat feline hyperthyroidism treatment facilities are located in Danbury CT, Stamford CT, Syracuse NY, Long Island NY, and Queensbury NY. If you have any questions regarding the locations of our treatment facilities, please call us at (866) 467-8228, or visit our location directory.
If you suspect your cat may be suffering from feline hyperthyroidism, or have questions regarding what feline hyperthyroidism is, how it affects your cat's thyroid, symptoms, or anything related to the condition, please call Thyro-Cat at (866) 467-8228. You can also visit our cat hyperthyroidism resource section for more information.
Click to See Why Radioactive Therapy is Your Cat's Best Option to Cure Feline Hyperthyroidism!